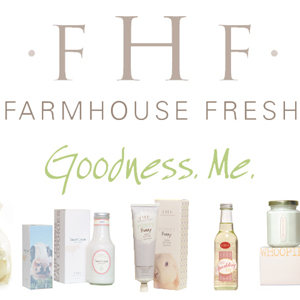 At FarmHouse Fresh, you'll find skincare products grown and crafted with delicious epicurean flair, that are either certified organic or use up to 100% naturally derived ingredients — all chock full of fruits, vegetables, milks, and more from U.S. farms, including our own. They are proudly made in the U.S.A. They put just as much love and care into our products as they do in cultivating what goes into them. Their baskets, table top displays, even tote bags are all hand made in the U.S.A.
Farm House Fresh pursues three passions:
GROW FRESH. Whether grown on their farm or other local U.S. farms, ingredients are harvested, washed, and extracted within hours to ensure vitamins are at their peak. And they ensure zero waste – feeding the chickens their pulpy leftover rinds!
SPA DELICIOUSLY. Their Farm-to-Table Treatments are as delicious as they are authentically crafted with organic fruits, vegetables & herbs, and small batch liquors from across the U.S.
RESCUE. The FHF Ranch is also a sanctuary for animal rescues. Following their creed — Life is Short. Save Something Furry.® — they use your purchases to help them care for forgotten, neglected, and abused farm animals at their FHF Ranch and Sanctuary. They also fund, transport and actively support other rescues.