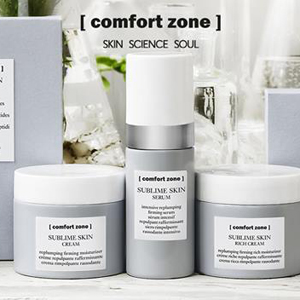 Comfort Zones mission is to promote a holistic, soulful, healthy and sustainable lifestyle, with advanced science-based conscious solutions to visibly improve skin, body and mind.
[ comfort zone ] was conceived in Parma, Italy, in 1996 as the skincare division of Davines Group, a family-owned company still in the caring hands of the Bollati Family. What began as a research laboratory and manufacturing site for the development of high-quality formulas has grown into an internationally awarded and distributed professional range of spa treatments and home care. The evolution of [ comfort zone ] rests in the vision and scientific background of the President Dr. Davide Bollati, pharmacist and cosmetic chemist, who has always valued extensive and constant research to support his commitment to excellence.
Since skincare products feed and nourish the skin, they are extremely rigorous about what they put in their formulas.
They select the finest natural-origin active ingredients and combine them with the most advanced high-tech molecules and carrier systems to guarantee the maximum efficacy, safety and pleasantness of their products.
They are replacing silicones with nourishing oils and butters for maximum silkiness and to give skin the benefit of "real active beauty".
These award winning products are manufactured in Italy with electric energy from renewable resources.